Be carefull with Traveler 8.5 security configuration in Traveler policy settings document
Tags:
Lotus Domino
Lotus Traveler
Traveler
8.5
Policy
This weekend I've been testing Traveler 8.5 using an old HP iPaq 27909b and ran into a small problem.
Once you've enabled the security settings on the Traveler policy settings document and they get pushed to a device that can not comply to these settings, the Traveler 8.5 client will not synchronise, further more it will not pickup any changes to the policy settings.
I had setup a Traveler policy setting document and added that to an explicit policy applied to my account.
I then configured my iPaq with the 8.0.1.2 Traveler client to test if it was possible to connect to 8.5 using an older version.
At one of my customers we are about to upgrade their Traveler 8.0.1 server to 8.5 but could not find any statements about whether or not the older Traveler client will work correctly with the 8.5 server.
In any case the answer to that question is yes, you can sync your Windows Mobile device with an 8.5 server using the 8.0.x Traveler client.
My next step was to upgrade using the 8.5 client which worked fine, just download the .cab file and open it on your device, click next a few times and you're set. Worked like a charm.
Then I enabled security settings on the traver policy settings document.
After a while the Traveler client reported "Sync has been disabled by your administrator because of a device security policy violation.
Device security violation(s):
Device Password"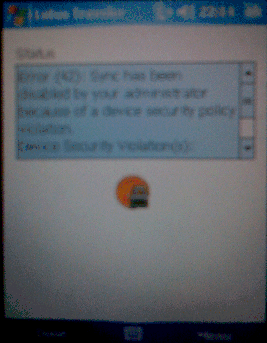 In the Traveler client under Menu-Tools there is an option to View Security which resulted in this screen: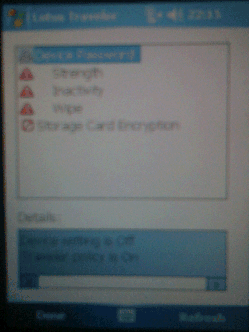 Next I disabled the security settings on the policy document, but the Traveler client still refused to synchronize.
I created a new explicit policy with a new Traveler policy settings document which did not have any of the security settings enabled and assigned that to my person document, but still the Traveler client refused to synchronize.
I tried a re-install of the client, which didn't work, downgraded to 8.0.1.2 (which did work) and then upgraded again to the 8.5.0.0 client (still didn't work).
When I checked my mailfile using NotesPeek I noticed a number of new profile documents:
DevProfile and TravelerProfile - the latter still containing the original values from the first Traveler policy settings document (it never picked up the current values ).
Removing the those profile documents from my mailfile did the trick.

-- Update:
I noticed something strange in the Traveler's Cluster cache database

According to the client's db properties box the replica id of my mailfile is: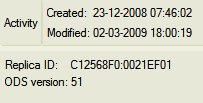 Three different replica id's for one notes database ...